Wow, Another Year Wrapping Up
December 05, 2011
Playing in the winter wonderland
I just can't wrap my head around 2011 being almost done. It seemed like just yesterday I was in a pool starting training for my ˝ Iron event – and that was last January. Yikes, where did this year go? So much has happened. The new 2012 bikes are arriving and look sharper than ever, the economic climate here in Canada seems to be finally picking up with some bright light at the end of the tunnel, many programs that we will be involved in next year are coming together and getting firmed up – and soon we are off to jump-start yet another fantastic year.
I'm especially excited about Norco's commitment to the Enbridge Ride to Conquer Cancer events again in 2012. You will yet again see our smiling staff there to help you out with tech support at all 4 events across the country. Oh yeah, and if you are signed up and riding and maybe thinking about a new bike this spring, there is incentive programs that will add up to $150 to your fundraising goals with the purchase of a new Norco road bike. Check out the Valence series bikes if you want to see some beautiful world class road worthy GranFondo/Charity ride type bikes. That is my new ride for 2012.
Our Factory Team riders and sponsored privateers have had a fantastic year out there representing Norco and spreading the good word about cycling to hundreds of thousands of people that see them worldwide. Check out the attached article that shows a few highlights from this past year.
As our calendar year winds down, please enjoy the holiday season with family and friends. Take time to get outside, maybe even for a ride if that is possible still in your area. Sunny skies and tailwinds to you all, as we roll over into another New Year !
Steak Sauce
A Great 2011 Year in Review
December 05, 2011
It is hard to believe that it is already December. Another year has passed so quickly that it feels as if it was sand slipping through our fingers. That said, in retrospect we got a lot done in 2011. From shows to events, road trips and races there were a lot of great things that we have accomplished over the past year. Here are a few of the highlights.
Starting off the year, Dustan, Jonathan and Sam Dueck head down south to escape the cold on a two week road trip through California. With some spectacular rides through some amazing California terrain this was a great trip to kick off the year. Read the trip recap article here.
In February, Norco Factory Team riders Jay Hoots and Ryan Leech along with Norco PR Marketing Manager - Pete (a.k.a. Steak Sauce) took a trip down under with the television show Ride Guide. Now, you can watch the episode here or read the recap article here
In its fourth year, the Enbridge Ride to Conquer Cancer had more than 10,000 participants spread over the four Canadian tours and has raised in excess of $130 Million. Norco was there for all four events offering free tech support to all riders. Norco will again be offering this free service to all participants in 2011. See you out there! Learn more about the 2011 Enbridge Ride to Conquer Cancer events here
At the 2012 Kokanee Crankworx in Whistler BC, riding legends Ryan Leech and Danny Macaskill met in person for the first time and put on a show. The amount of talent between these two riders is simply bewildering. What an amazing experience. Read more about this once in a lifetime trials demonstration here.
July was the month to be tuned in if you wanted to catch a first glimpse of the 2012 Norco lineup. The 2012 Product Launch took place in North Vancouver for Norco dealers and distributors. Riding on the iconic North Shore, this three day event was a spectacular way to live breathe and eat the 2012 Norco Lineup. Read more about the launch and the 2012 bikes here.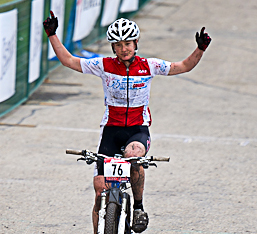 2011 was a great year for Norco Factory Team rider Catherine Vipond. After a fantastic racing season both Nationally and Internationally Catherine came home to win the title of Canada Cup Women's XC Champion. Congratulations Catherine! Read more about Catherine's season and champion title here.
With Cyclocross season coming to an end shortly Team H&R Blocks' Aaron Schooler has had a great season. Calling Edmonton home, Aaron started off taking the Alberta Cyclocross Championship win. Shortly following Aaron's hometown victory he came out west and followed it up with a win at the BC Cyclocross Championships.
The past year has been a whirlwind of daily happenings. With more than 200 posts in the Norco News in 2011 so far we have barely scratched the surface of what has happened. What was your favorite moment on a bike in 2011?
Rain, Mud, Snow and Your Winter Tire choice
December 05, 2011
Your mountain bike has only two points where it touches the ground. That in itself makes your tire choice extremely important in how your bike pedals, corners and gets you over the slippery bits. Without the proper tire choice an excellent rider can be left in the dust (or mud) of a less-skilled, well tractioned rider. The basics of tire choice come to a few simple concepts: tread, width, pressure and diameter.
Tread pattern makes a huge difference in how a bike will handle on the trail. While an ultra-knobby tire may be good on the roots, without an open pattern it could very easily clog in the mud.
The three tread patterns shown above for instance will have very different handling features while riding. The far left is a Kenda Karma. This is an open disign that will shed mud easily but will not necessarely bite in as well as some tire as the knobs are short and evenly distributed. The middle tire on the other hand is a Kenda BBG. The open design will again allow for mud clearing while the perpendicular nature of the tread will bite in well under pedaling and braking situations. The disadvantage to a tire like this is that sliding on rocks and roots could be emphasized by the uniform nature of the centre tread. The tire on the far right is a Kenda Nevegal. This tire takes a different approach than the other two. Using well-spaced large knobs in a V-shape, this tire clears mud well while still offering good traction under pedaling and braking. The aggressiveness of the tread will run a little slower than a lower profile tire but this is a great choice for wet and varied terrain.
When looking at a tire for winter use look for large knobs with lots of open space. The size of the knobs will improve traction while the open space will allow for mud to clear from the tire an not pack up. A V-Shaped tread pattern also helps with mud clearing and traction.
Another aspect of tire choice to take into consideration is width. The different between a thin and broad tire makes a huge difference in wet weather. The general rule of thumb is a wider tire will work better in wet conditions. This catch-all statement breeds out of a few factors. A wider tire has a higher volume so can be run at lower pressure than a narrow tire. This lower pressure leads to a greater surface area of the tire on the ground. The contact surface area of the tire is also larger due to the wider profile of the tire. By having a larger contact patch with the ground, one's weight is better distributed over a larger area and thus receives better traction. The downside of course is that a wide tire has more rolling resistance and is inherently heavier than a narrow tire.
The last aspect of tire choice to consider is the actual diameter of your wheel. While this may not be as easy of a decision as simple width or tread when you are purchasing your next bike this is something to consider. The 26" vs. 29" debate has been running rampant for a few years and 650B (27.5") even comes into the discussion from time to time. The size of your wheel directly effects how the bike rolls over obstacles, handles in corners and affects the overall ride characteristics of a bike.
For a full breakdown of the 29" wheel philosophy check out this recent article on the benefits of the 29er. For the sake of this discussion though, the size of your wheel affects contact patch, momentum and acceleration. A 29" wheel has a larger circumference than a 26" and that translates much like riding a wider tire in that the surface area of the tire that touches the grand is larger. This improved contact patch allows for greater traction when riding in slippery conditions. This improved traction combined with the larger wheel's rolling characteristics can make for an even better muddy-condition ride.