It is hard to believe that it is already December. Another year has passed so quickly that it feels as if it was sand slipping through our fingers. That said, in retrospect we got a lot done in 2011. From shows to events, road trips and races there were a lot of great things that we have accomplished over the past year. Here are a few of the highlights.
Starting off the year, Dustan, Jonathan and Sam Dueck head down south to escape the cold on a two week road trip through California. With some spectacular rides through some amazing California terrain this was a great trip to kick off the year. Read the trip recap article here.
In February, Norco Factory Team riders Jay Hoots and Ryan Leech along with Norco PR Marketing Manager – Pete (a.k.a. Steak Sauce) took a trip down under with the television show Ride Guide. Now, you can watch the episode here or read the recap article here
In its fourth year, the Enbridge Ride to Conquer Cancer had more than 10,000 participants spread over the four Canadian tours and has raised in excess of $130 Million. Norco was there for all four events offering free tech support to all riders. Norco will again be offering this free service to all participants in 2012. See you out there! Learn more about this past year's Enbridge Ride to Conquer Cancer events here
At the 2011 Kokanee Crankworx in Whistler BC, riding legends Ryan Leech and Danny Macaskill met in person for the first time and put on a show. The amount of talent between these two riders is simply bewildering. What an amazing experience. Read more about this once in a lifetime trials demonstration here.
July was the month to be tuned in if you wanted to catch a first glimpse of the 2012 Norco lineup. The 2012 Product Launch took place in North Vancouver for Norco dealers and distributors. Riding on the iconic North Shore, this three day event was a spectacular way to live breathe and eat the 2012 Norco Lineup. Read more about the launch and the 2012 bikes here.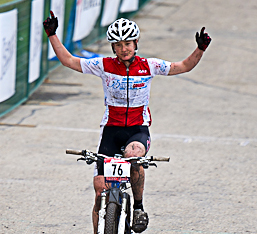 2011 was a great year for Norco Factory Team rider Catherine Vipond. After a fantastic racing season both Nationally and Internationally Catherine came home to win the title of Canada Cup Women's XC Champion. Congratulations Catherine! Read more about Catherine's season and champion title here.
With Cyclocross season coming to an end shortly Team H&R Blocks' Aaron Schooler has had a great season. Calling Edmonton home, Aaron started off taking the Alberta Cyclocross Championship win. Shortly following Aaron's hometown victory he came out west and followed it up with a win at the BC Cyclocross Championships.
 The past year has been a whirlwind of daily happenings. With more than 200 posts in the Norco News in 2011 so far we have barely scratched the surface of what has happened. What was your favorite moment on a bike in 2011?